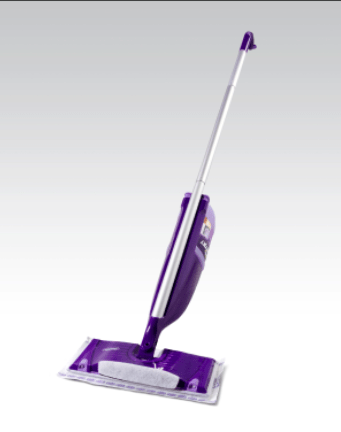 Today I have a review for you. It is on the Swiffer Wet Jet. When I got mine I did not realize there were other more environmentally friendly versions out there.
I like the way the wet jet cleans up the sticky spots that get left on the floor from little hands preparing his own sandwiches and snacks. I actually do love it quite a bit. Especially since I learned how to turn the non-refillable bottle into a refillable bottle that I can add my own Earth friendly concoction to. I am still trying to come up with something for the disposable pads which makes me really think back to the diapering age, and when I didn't own a Diva Cup (next week's review). They are just so wasteful I really cannot stand it. Hopefully I can find out some way to make some type of washable cloth pad that stays in place and is reusable. If not I might just have to switch to a product that does not require all these extra expenses. Which brings me to the fact that you need to buy batteries. I don't like batteries. Especially when they don't last too long.
Over all the Swiffer Wet Jet is a good product that just needs to upgrade its Environmentally friendly/ cost conscious aspect of the product.
Next Week: I review the Diva Cup.