This giveaway is now closed. The winner will be notified via email.
Thank you to all who joined in with the fun. Your comments are greatly appreciated.
Stick around for weekly giveaways!
Here it is as promised, a Martha Stewart Microbeads review and Giveaway.
Before I get started I need to tell you that this review and giveaway is in no way endorsed by Martha Stewart. I am doing this all on my own. The giveaway prize is actually from part of my Christmas present. I just love them so much I wanted to share them with lovely crafters like you. :)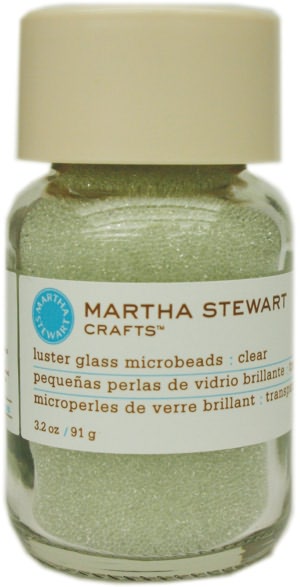 The microbeads I am reviewing are from Martha Stewart Crafts. They are available in 15 different colors. I unfortunately only have 14, the store I ordered them from did not have Onyx and it did not seem worth paying more for the shipping of Onyx than the sale price of the color it self. I don't really know what to say other than I think the quality of these beads are great. Of course I don't really have any thing to compare them to. I have read that you can change there color with some other product that I do not remember what it is called. I know for my purposes they are perfect. I am sure you can find some that are cheaper and not as big of quantity if you want to. But I just loved the look of the jars so much that I thought I just had to have them. And if you have an extra spice rack laying around you can have a custom storage shelf for them. (see previous entry). Microbeads are easy to use. You use them just like glitter and the
create dimension, luster and texture on scrapbook pages, cards, gift tags and anything you want.
They are great and they look really cool in the jars or rolling around on a paper plate. (don't ask)
GIVEAWAY TIME!!!
One lucky reader will receive a sample of every color... except onyx because I don't have that. and it is a decent amount. I have seen on Etsy people are selling this amount for 2 or 3 dollars a baggy. So if you add that all up that is about $42.00. Wow! (maybe I should have thought this through) Just kidding!!! I am doing this because I love y'all and I think this is something everyone who crafts will enjoy.
To Enter all you have to do is:
1. Comment below saying what you plan to use the Microbeads for. (1 entry)
2. Follow the blog. And leave a comment saying you did so. (1 entry)
3. Share this blog post on Facebook, Twitter, or Tumblr or your own blog and leave a comment with a link saying you did so. (1 entry per post... up to 4 entries there!)
Make sure you leave your email address so I can know how to contact you.
Giveaway open until next Thursday, January 12, 2012 9:00 PM Central Time.
Good Luck and Happy Crafting!